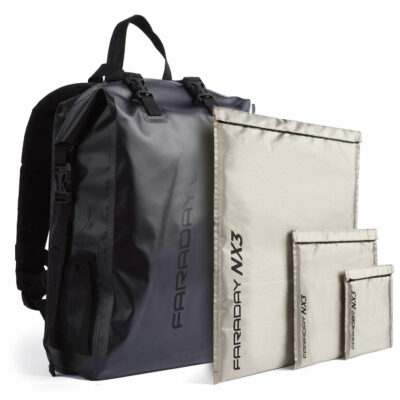 3 Reasons
Why You
Need A
Faraday Bag
Many people ask the question "Why do I need a Faraday bag?" That exact answer may vary slightly depending on each individual's concerns, but the fact remains, Faraday bags have a place in each one of our lives. This type of technology is important and serves a few main purposes in the civilian world: security/privacy, health, and safe storage. Here are the 3 reasons why you should get a Faraday bag.
Digital Security
In terms of privacy, Faraday bags are essential to obtaining data privacy and device security. Our Faraday bags are built to block all kinds of signals, like 4G/5G, Bluetooth, Wifi, and even GPS. Many people claim that turning the phone off will shut everything down, but that is not completely true, especially with newer phones. Newer phones are able to be pinged and located even when turned off, making a Faraday bag the only way to block those capabilities. Even if the phones were invisible when turned off, a faraday bag would still be helpful. Being able to pull your phone out of the bag and immediately use it, either in a safe location or during an emergency, is important. Always having to wait for the phone to restart and load is time consuming and aggravating, and potentially dangerous in an emergency scenario.
Tracking is not the only reason for using a Faraday bag. A Faraday bag is an important tool to prevent hacking and data theft. Busy areas and cities can be dangerous places for information security. Skimming and hacking takes place in order to steal information off of your device. Different applications can also be remotely installed on your device, weaponizing it against you, people close to you, or even the company you work for. 
In the popular Amazon show, The Terminal List, the protagonist requires a reporter to put her phone in a Faraday bag in order to prevent any sort of compromise. Even though we like to push them to the back of our mind, these types of threats are real and all around us, making personal security very important.
(Hint: Put your device in airplane mode when in the bag to preserve battery life, otherwise it will unsuccessfully spend its time trying to push out a signal.)
EMF Health
The health effects of EMF are still under study, but they seem to have varying effects on an individual's health, often depending on the individual. Faraday bags can keep Cell Phones and other devices from leaking radiation throughout one's home or vehicle, cutting down on potentially harmful emissions.
Another product, Faraday curtains, can be placed in windows, repelling a large amount of EMF that comes off of cell towers, smart meters, and other sources of radiation from entering into the home. Faraday fabrics and barriers are also used to cut down on radiation in different points on a building. It should be noted that home solutions are typically not impenetrably effective. Due to different leak points on a home, and different levels of fabric strength, they will greatly reduce your emf exposure, but not by 100%.
Safe Storage
Because of the world we live in, there are many foreign and even natural threats that could affect our devices. The Faraday industry provides protection for 2 specific threats, EMPs and Solar Flares.
If a foreign country were to unleash an EMP on America, or a large enough solar flare were to happen on the sun, devices would be in trouble. Most items with electronic components would be negatively affected, even destroyed by the surge. The barrier that Faraday bags create would shield anything in them from the damaging blast caused by an EMP or Solar flare, allowing for people to maintain use of their phones, radios, crypto vaults, or backup hard drives/storage drives.
Conclusion
With everything listed above, there is a large number of uses for Faraday bags and materials throughout civilian life. With the many different styles and shapes of bags available, it isn't difficult to find one that fits your needs. If you have any questions about how you could utilize these, or what kinds would be most effective for you, please call us at (800) 748-6052, or email us at sales@faradaydefense.com.